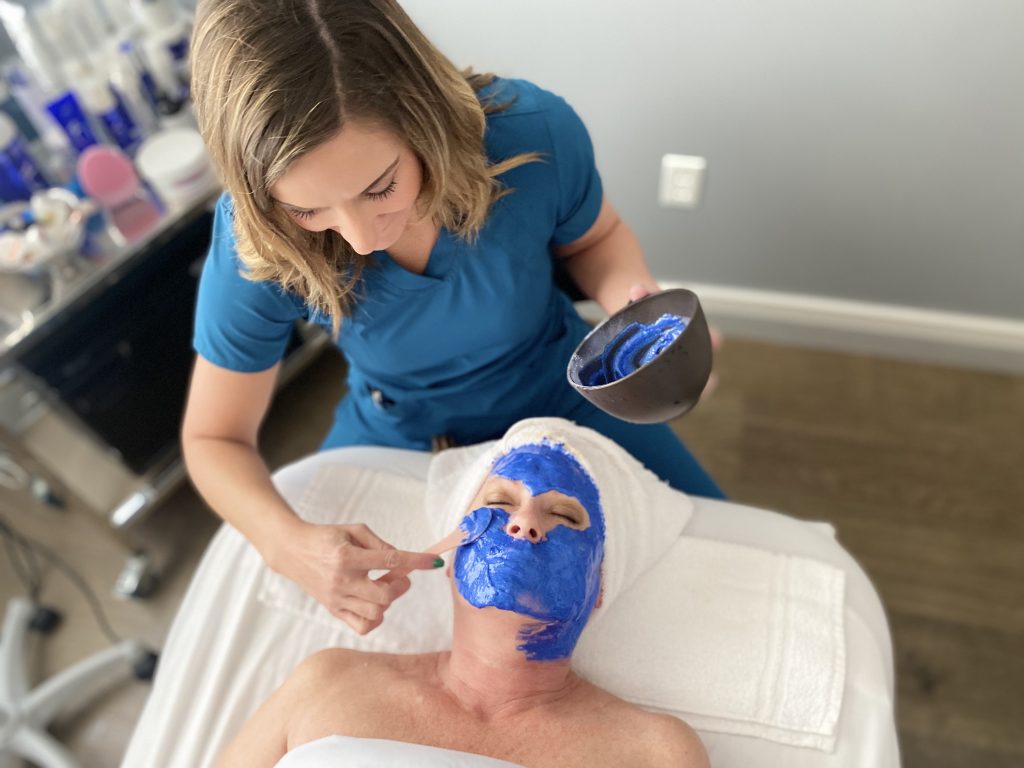 Signature Cryo Facial
This soothing and rejuvenating treatment is great for sensitive skin, reducing inflammation and restoring the radiance of the skin. Featuring a Glacier Cryo Jelly Mask and a cryo facial massage to reduce swelling and under eye puffiness. For glowing, de-stressed, refreshed skin, try our Signature Cryo Facial.
DiamondGlow™ Facial Treatment
Lamb Medical & Aesthetics now offers the DiamondGlow™ Treatment. Unlike traditional wet facial treatments, which rely on chemical exfoliation to treat skin at surface level, DiamondGlow's™ patented recessed diamond tip wand delivers a next-level resurfacing treatment that deeply cleans and rejuvenates the skin. Diamond Glow Facial focuses on rejuvenating the face and neck. Diamond Glow Body applies the same great treatment to the body for overall glowing results. Finally, Diamond Glow KP spot treats that stubborn keratosis pilaris or "chicken skin" on the backs of arms or tops of thighs. Get ready to glow!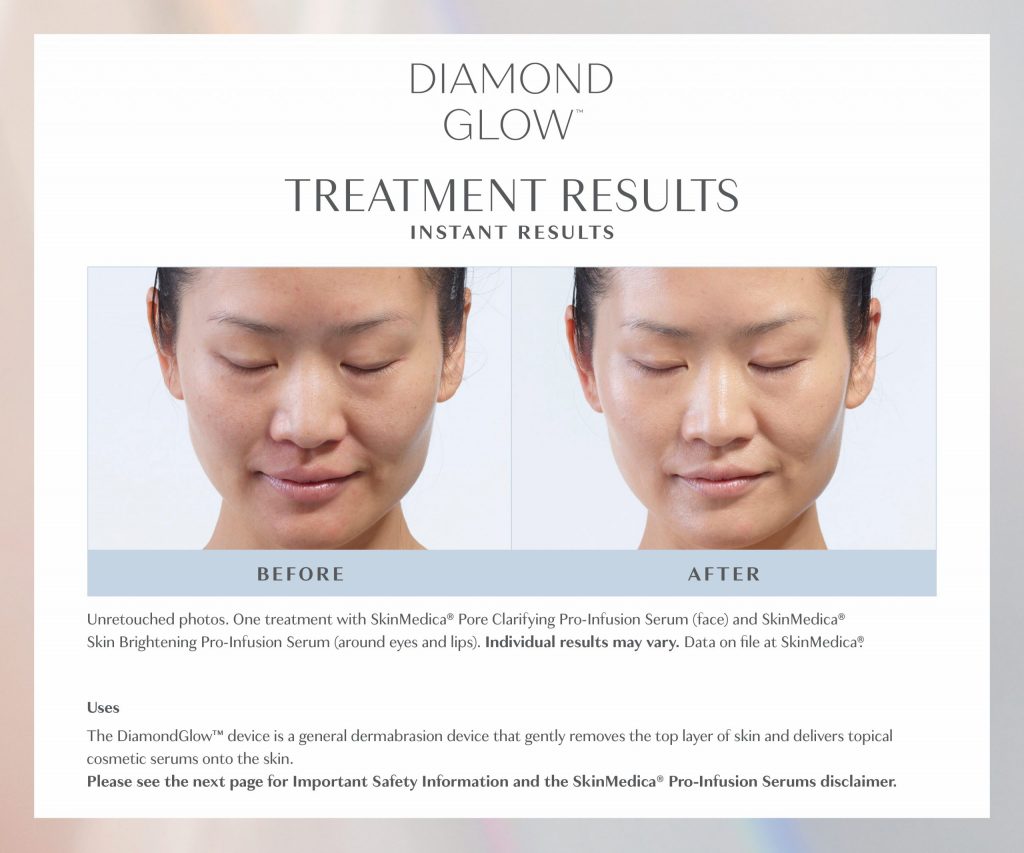 Facial add on services
Hot stones
Hydro Jelly Mask
Brow tinting
These services can be added onto any facial or Diamond Glow procedure.
Classic Facial
Lamb Medical & Aesthetics classic facial will provide you with all of the relaxation you are craving.  Our highly trained aestheticians will create a custom designed classic facial built  around your skin and your needs. As a result, your skin will feel brighter and more refreshed. Our aestheticians will also walk you through a recommended and individualized skin care routine that will allow you to maximize the benefits of your freshly glowing skin.
Chemical Peels
Chemical peels are a fast and effective way to exfoliate dry or damaged skin allowing new, smoother, healthier skin to surface. Your skin will gain a healthier and younger appearance. Peels help to minimize fine wrinkles, improve discoloration and age spots, and improve the overall texture of your skin. At Lamb Medical & Aesthetics, both Obagi and Skin Medica chemical peels are available. We understand that sometimes decision making is complicated, and we will help you choose the best option for your skin needs.
Dermaplaning
What is Dermaplaning?
Dermaplaning is a manual exfoliation technique the removes surface debris with a custom dermaplaning blade.
What Are The Benefits of Dermaplaning?
Benefits of dermaplaning include increasing your skin's ability to absorb products and creating a healthier more radiant appearance. Also, fine lines and wrinkles will be diminished. Dermaplaning is a great way to prep your skin before a chemical peel.
Some FAQ's About Dermaplaning–
Dermaplaning will NOT cause hair to grow back darker or thicker nor will it cause breakouts. Additionally, dermaplaning is not painful. The treatment is performed with a specialized razor and cannot be done at home.
Come in and experience dermaplaning as a stand alone service or add dermaplaning to a facial or chemical peel.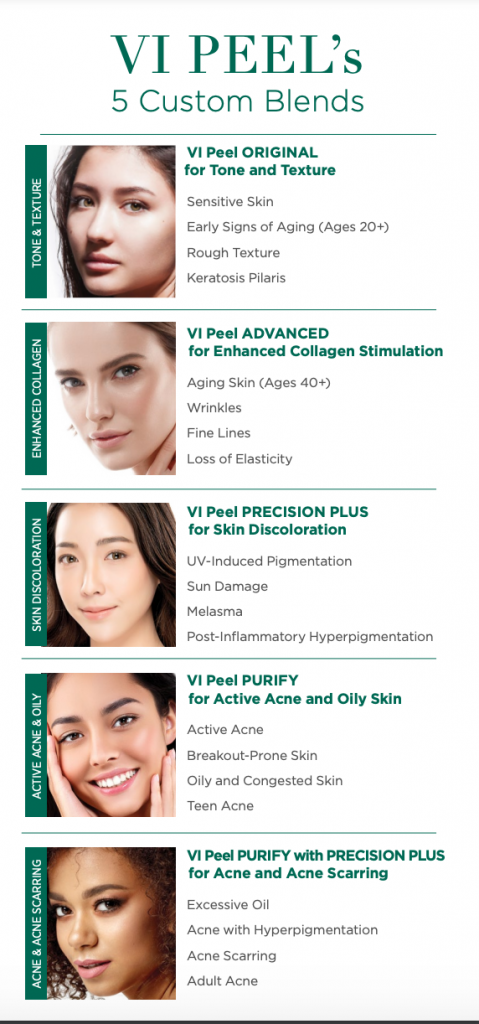 VI Peels
The VI Peel is a skin-resurfacing chemical peel that stimulates collagen and increases cellular turnover to reveal smoother and more radiant skin. In just 15 years, over 10 million peels have been performed worldwide and VI Peel has been recognized by both consumer groups and industry leaders as the #1 Peel. VI Peel has a peel for each skin concern. With 5 custom blends targeted for each patients' needs, VI Peel helps treat all skin concerns such as aging skin, active acne, acne scarring, melasma, sun damage, keratosis pilaris and much more. Get a VI Peel today!