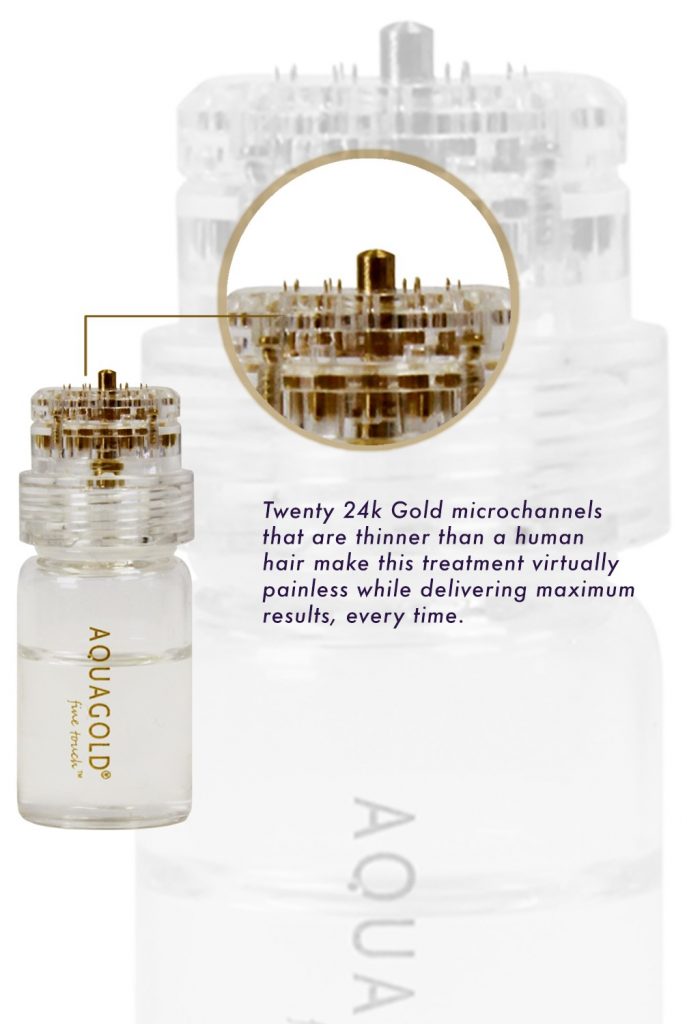 WHAT IS AQUAGOLD® fine touch™?
AQUAGOLD® fine touch™ is the first-of-its kind patented microchannel microinjector that painlessly, effectively, and delicately delivers specials elected therapeutics into the dermis to address a wide range of skin concerns.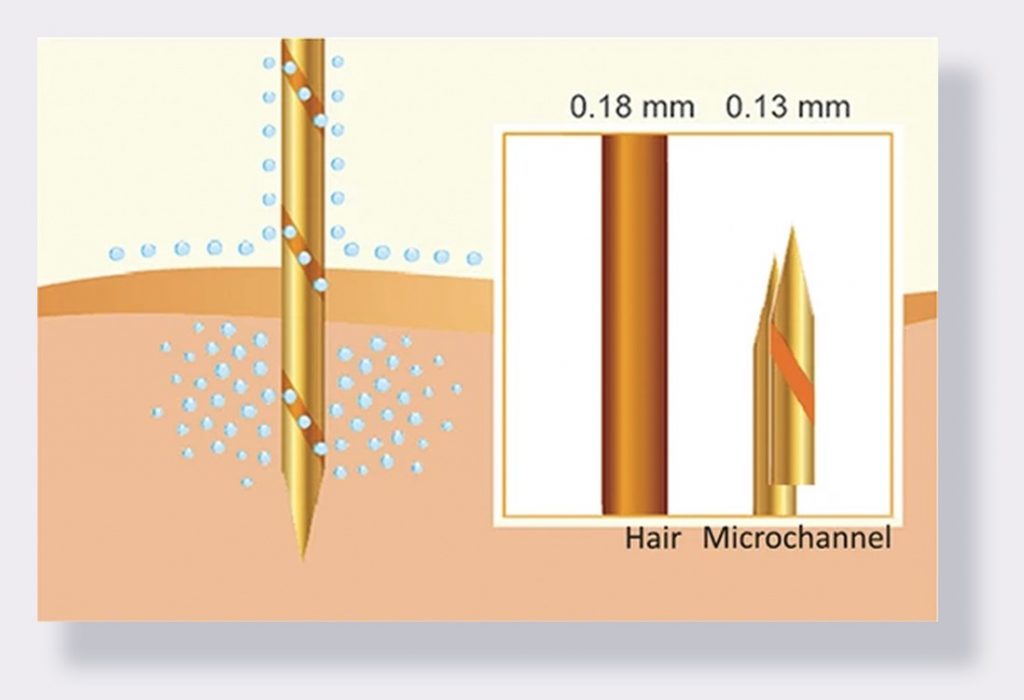 HOW DOES IT WORK?
Patented Microchannel Technology™ delicately delivers microdoses of personalized medicine to address your most important skin concerns.
AQUAGOLD® delivers an impressive 2,400 microinjections per minute with zero downtime!
---

MORE THAN JUST NEEDLING
The microchannel screw-like design safely and consistently delivers therapeutics at a consistent depth with minimal damage to the dermis, targeting all layers of the skin while stimulating collagen and elastin production. Because of this, results are visible almost instantly with no downtime providing a comfortable experience especially for those who may be averse to needles.
---
UNIQUE 2-IN-1 TREATMENT
Targeted treatments that induce a wound healing response and simultaneously stimulate collagen and elastin production.
PERONSALIZED MEDICINE
Specially selected therapeutics for a treatment customized just for you. Address a wide range of skin concerns from acne scars and fine lines to hyperhydrosis and alopecia.
COMFORTABLE EXPERIENCE
Delicate microchannels thinner than a human hair provide a virtually painless procedure with zero downtime.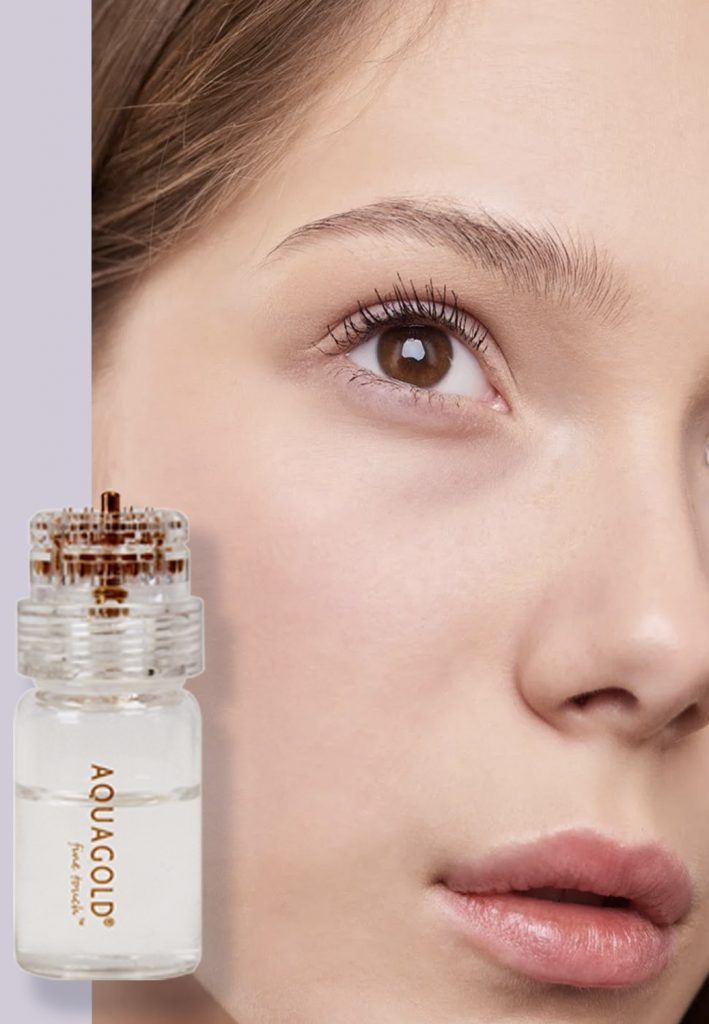 ---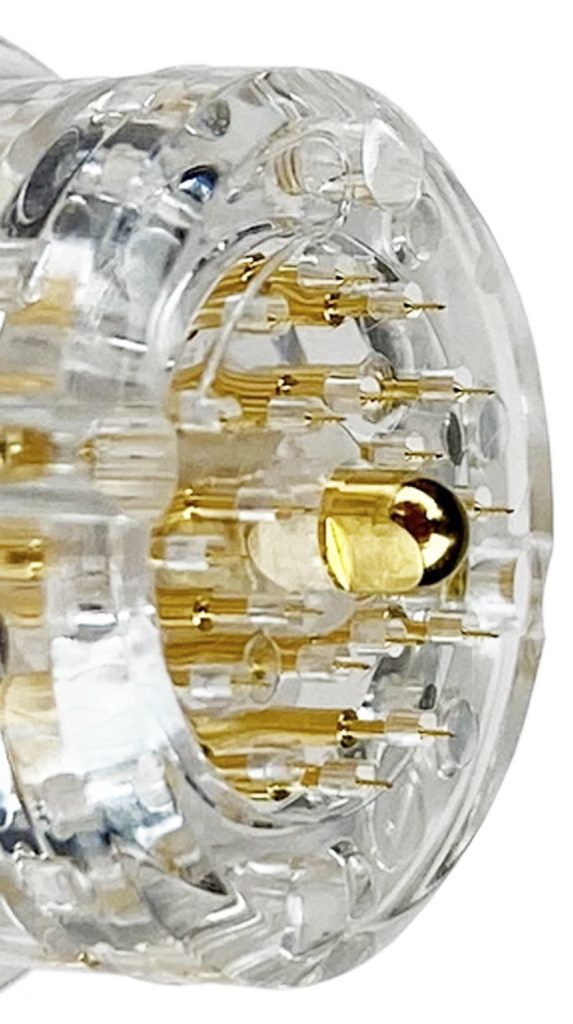 NO WASTE
Screw-like micro channels deliver therapeutics into the skin to significantly reduce residual drug waste, maximizing the saturation of the active ingredients and amplifying results.
VERSATILE
Treat problem areas anywhere on the body or focus on delicate, hard to treat areas such as the periorbital (around the eye) and perioral (around the mouth) regions.
HYPOALLERGENIC
High quality gold tends to be hypoallergenic and utilize free radical scavenging to help prevent additional inflammation.
---
AQUAGOLD® FAQ
What are the advantages of AQUAGOLD® fine touch™?
AQUAGOLD® fine touch delivers low doses of injectable drugs at a consistent depth and is almost pain-free. This is a major advantage over the conventional syringe manual injection approach for certain sensitive areas, preventing overdosing or getting the needles too deep into the skin.
What is the size of the microchannels?
The microchannels are 600 micrometers (0.6 mm) long and 130 micrometers (0.13 mm) wide, each thinner than a human hair.
How many microchannels are there?
20
How is AQUAGOLD® fine touch™ different from microneedle devices?
The intended use of AQUAGOLD® fine touch is to inject low doses of drugs into the skin. This is very different from "microneedling", where the intended use is to wound or stimulate the skin, affecting function or structure of the body. AQUAGOLD® fine touch device is not a microneedling device.
Can AQUAGOLD® fine touch™ be used multiple times?
No. AQUAGOLD® fine touch™ is designed and sterilized for single-patient, single use only.
Why are the AQUAGOLD® fine touch™ microchannels made of gold-plated stainless steel?
The surgical grade stainless steel provides the structural integrity of the microchannel. Pure gold has high biocompatibility with human skin, preventing skin irritation and allergic responses after use. Impurities and other metals may result in unnecessary irritation.
Is Aquavit Life Sciences Inc. an FDA registered establishment?
Yes.